Professional Hemodialysis Machine with LCD Touch screen/Body fluid-processing dialysis machine MSLHM03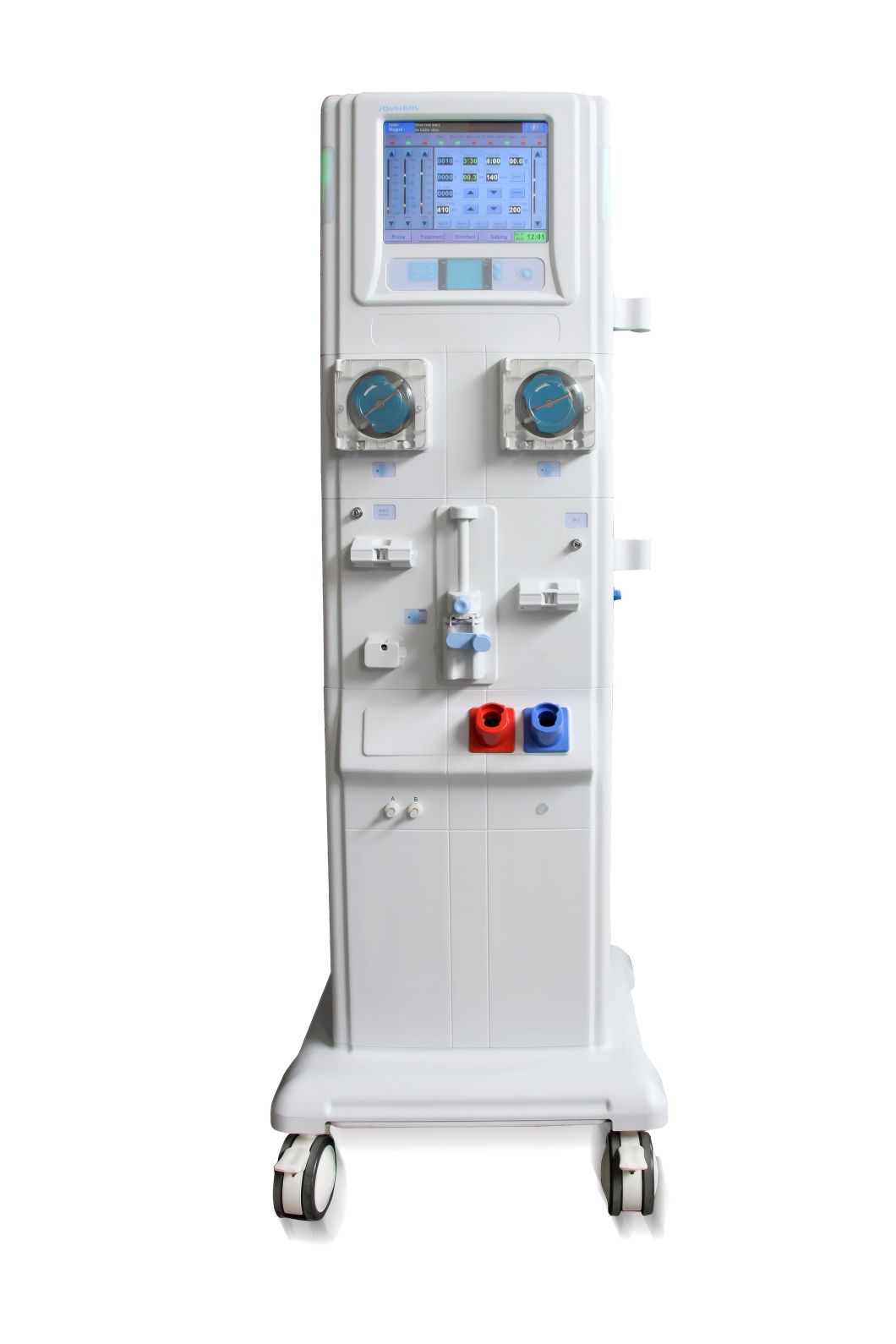 Pro
duct
descriptions
Multifunctional hemodialysis machine is used to clear the toxin in the blood. It is also used for the patients with poisoning, renal failure, diabetes, kidney disease and uremia.
Apply to hemodialysis, hem perfusion, ISO UF, plasma exchange, etc.


Features
User friendly operation
All-around security system
Precise UF system
Powerful functions
Can do double pump single needle function
Double pump machine
Can add pyrogen filter
Specifications
Volume (length× width ×height):
·370mm×340mm ×1420mm
Weight: about 90kg
Power supply voltage: AC220V±10%
·Frequency: 50HZ ~ 60 HZ
·Power: 1700W
Blood pump:
·Flux: 10 ~ 460 ml/min (6.4mm)
·Flux: 20 ~ 620 ml/min (8mm)
Functional pump:
·Flux: 10 ~ 460 ml/min (6.4mm)
·Flux: 20 ~ 620 ml/min ( 8mm)
Heparin pump:
·Flux: 0.1ml/h~10ml/h(±5%)
·Precision: 0.1ml/h
·Injector size: 10ml/20ml/30ml(selectable)
Arterial pressure:
·display scope:-300mmHg~+400mmHg
(±10mmHg)
Venous pressure:
·display scope:-200mmHg~+500mmHg
(±10mmHg)
Dialysate flow:
·300ml/min~800ml/min linearly adjustable
(+10%)
·Temperature:35.0ºC~39.0ºC
·Resolving rate:0.1ºC
·Conductivity:12.3mS/cm~15.8mS/cm
(±0.1 mS/cm)
UF flow scope: 0~4000ml/h
ISO UF flow scope:0~4000ml/h(±30ml/h)
TMP
·Scope:-100mmHg~+600mmHg
(±20mmHg)
Blood leakage monitor:
over 1ml blood per liter dialysate
(flow:500ml/min)
Blood level monitor
Air bubble monitor:
Infrared and response threshold value:
Single air bubble of 200uL exists when blood flux is 200ml/min

Inflow pressure:0.12MPa~0.6MPa
0MPa~0.6MPa (Optional)
Inflow temperature: 5ºC~30ºC
Non-invasive Blood pressure monitor
Environment temperature: 10ºC~38ºC,
· Relative humidity≤80%
Rinse/disinfection: chemical disinfection
(citric acid, peracetic acid)
Hot rinse:≥80ºC
Back-up power supply: last for 15-30min after electric-cut.
Detail images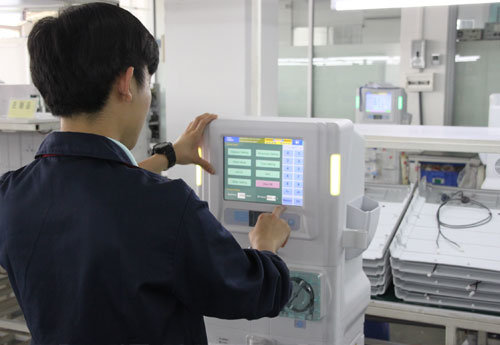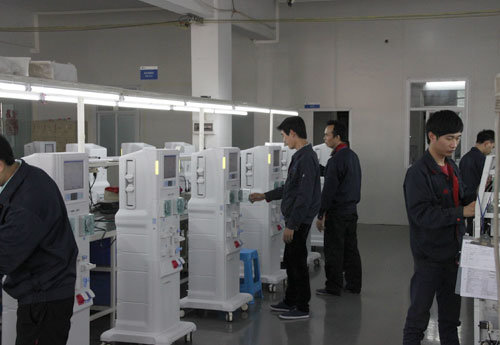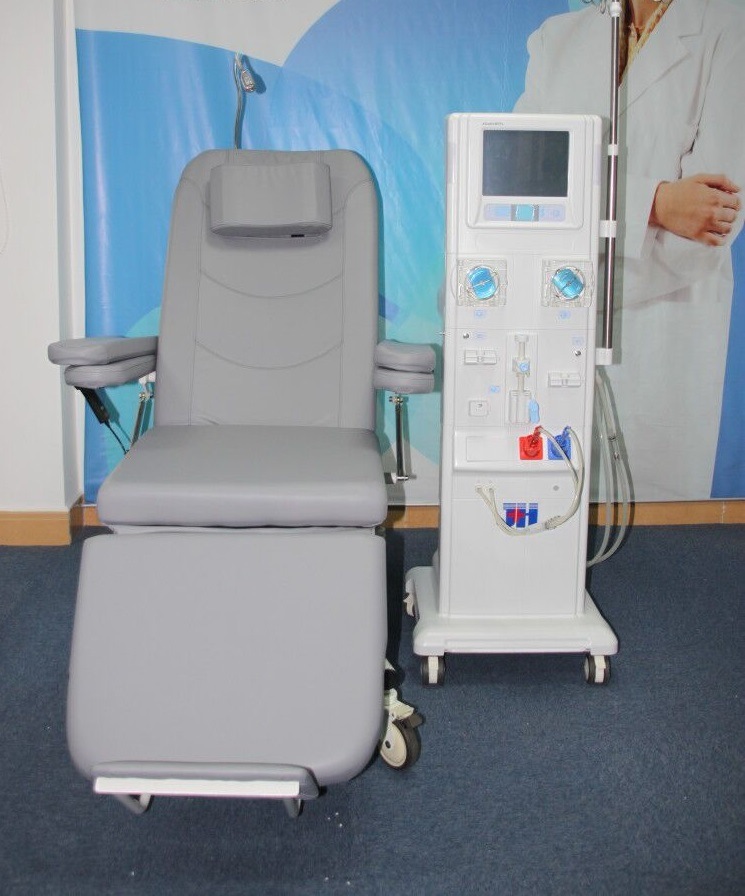 Company file
MEDSINGLONG GLOBAL GROUP CO., LTD (MSL) engages in selling medical equipments more than 10 years, such as Ultrasound machine,Xray machine,Blood analyzer,Biochemical analyzer,veterinary equipment,Radiation protection equipment and so on. We are Supplying all kinds of medical equipments in high quality with competitive price. Whether the hospital or clinic,or for personal use,you can find your own favorite products. Therefore, lowest cost of your medical devices with good service and high quality is our goal.No the best,only better!We are ready to serve you!

If you are interested in our products,please feel free to contact us!
We are going to provide you the best price and service!
Miss Charlene
Q&A
1).What's your product guarantee?
Normally we offer 24 months warranty, and lifetime maintenance.
We can also extend the warranty time per client's request.?
2).Does your product has any certificate?
Almost all our medical equipment is CE, ISO approved, and some of them has FDA certificate.
3).What's your payment terms?
We can accept T/T,Western Union, Money Gram, Paypal, Alibaba Trade Assurance, L/C,cash etc
4).What's your product lead time?
Normally all our medical equipment are in stock, so we can deliver goods within 3 workdays after receipt payment.
5).How to maintenance the product if it has problem?
We have professional engineers,they will solve your problem by communicating with skype or phone.
If the machine is totally broken and can not work, send it back to us and we will send a new one to you.
6).What's your training policy?
?Medsinglong offers free product training for clients.Clients can choose video,voice,email,skype for online training.
Moreover, Medsinglong has client training courses every year, client can visit Medsinglong for face to face training.
Meanwhile,Medsinglong support training in client's office as required.