Explain PABX Building Management System for hotel TP848-448
Type :Hotel PBX
Model : TP848-448
Capacity :4 CO lines 48 extensions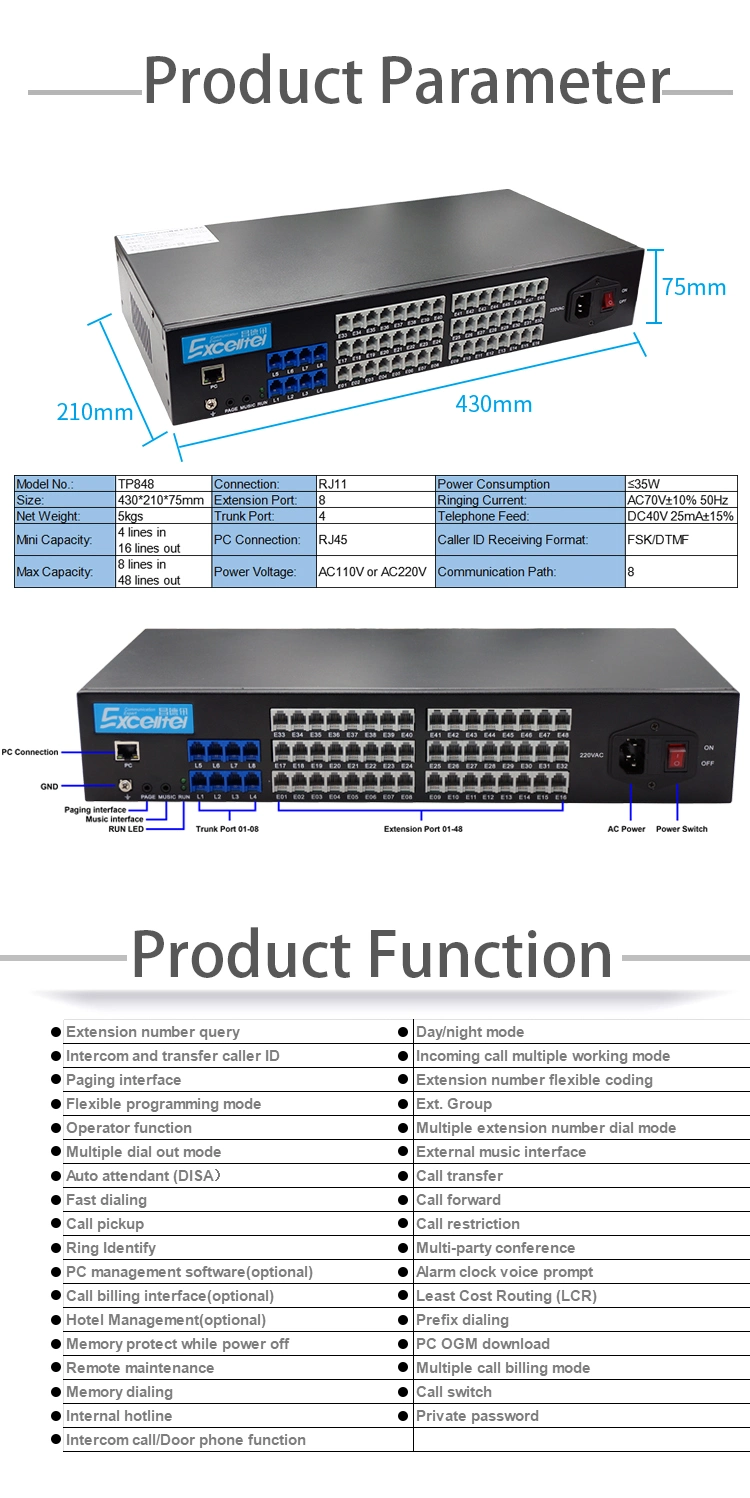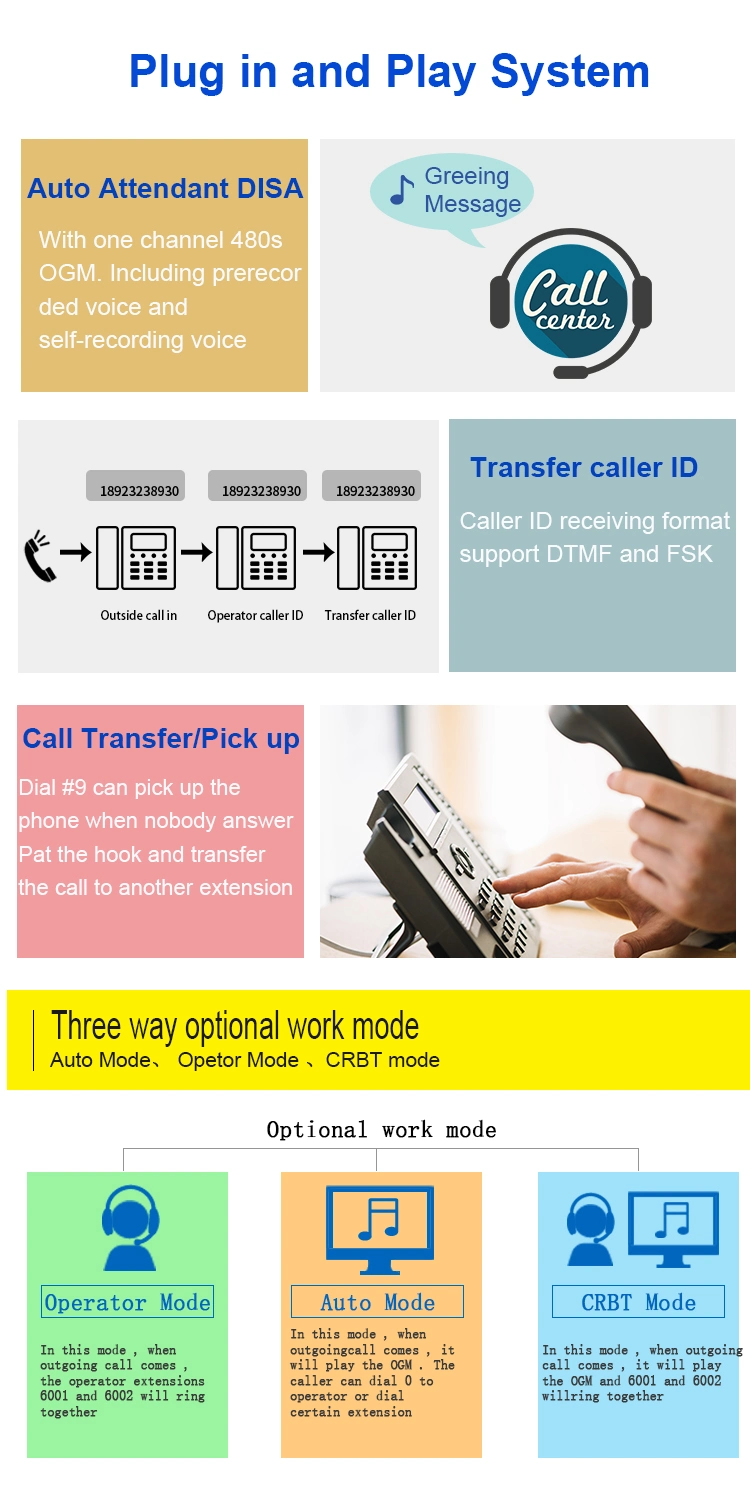 About shipping
WORLDWIDE SHIIPPING
Orders processed timely after and the payment verification
FAQ:
1.What is PBX?
PBX means Private Automatic Branch eXchange.
This is the electronic equipment for a number of telephone can share CO line and internal extension,
and make internal call for free.
2.What is CO line?
CO line means the telephone line from your local telecom company.
3.What is Extensions?
Extension means ordinary telephone. Our PBX can compatible with analog telephone(with 2 wired).
Our PBX also can support digital phone(what we means keyphone). But our PBX only can work with
our digital phone.
4.How to install the PBX?
It is very easy. Connecting the CO line to the CO line port and telephone connect to the Ext. Port.
Every extension can share the CO line to call out. Every extension can make intercom call for free.
5.How to program the PBX?
1) You can use telephone to input the format to program the PBX according to the user manual.
2) For some special model, it can support PC software. That means you can program the PBX by computer.
3) If any program problem,you can contact with us directly. Our technician will help you remotely.
6. How many years of the warranty?
1 year. Within 1 year, we will provide technical support and send maintenance parts for free if necessary.
If using out of 1 year, we still will provide technical support in any time,but maybe you should be pay for the
maintenance fee.
About us:
Excelltel Technology Co., Ltd. is a professional PABX designer and manufacturer in China. We work in PABX
field over 15 years and our core business cover from R & D, production and marketing of different types of PABX.
Our PBX range multiple levels, including small & simple PABX, hotel PBX, GSM wireless PBX,
Key phone hybrid PBX, large digital PBX etc... the C.O line range from 116, extension range from 6 to 128
We also provide PBX accessories, like key phone, analog caller ID phone,headset phone, door phone,
recording system etc...Till now Excelltel PABX already been exported to over 50 countries and won good reputation.
All of our PABX is originally designed by ourselves, SMT technology, our factory plant area is around 3000 sqm,
100 workers and office staff. We have an excellent R&D team, most of whom work in telecommunication field
over 15 years. We make OEM/ODM for many oversea buyers and China dealers.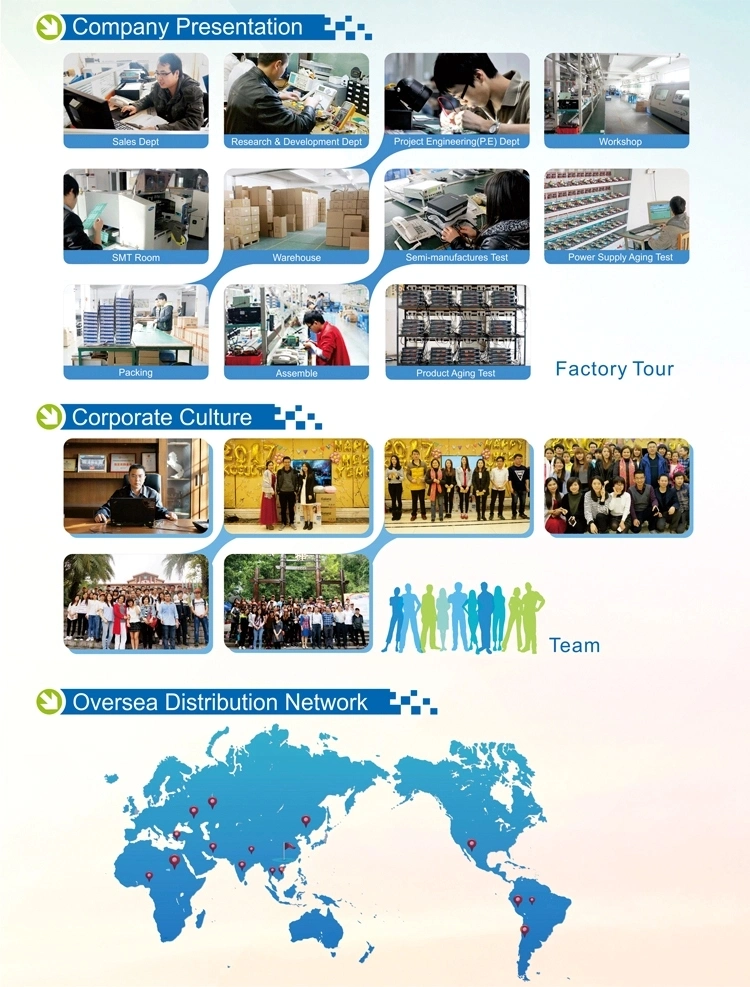 How to contact us?
Company name: Excelltel Technology CO., Ltd.
Address: No.6 Sigang Industrial Park, Beisha, Lishui, Nanhai Dist., Foshan, Guangdong, China.
Website: excelltel.en.made-in-china.com